I have Master's Degree in Computer Information Systems and started my computer consulting business in 1995 (Premier Computer Solutions LLC). I have trained clients on Microsoft Office, as well as Photoshop, Illustrator, Quark and other graphic design applications, in addition to developing databases (using Microsoft Access, Microsoft SQL Server, and Oracle), programming in Visual Basic, and creating websites (using ColdFusion, HTML, and JavaScript).
I have also had a pleasure of working at NYU School of Medicine (Dept. of Radiology Research) as a senior database developer and analyst for more than 9 years. I resigned in Jan 2011 so I could continue to grow my blog development and design business, Blogs by Heather, www.BlogsByHeather.com. I since then have created many programs for Stampin' Up! demonstrators.
In July 2010, I published my first book "Beginning Google Blogger" and in the fall of 2010 began writing my 2nd book, "Creative Blogging" (published April 2011). I have truly enjoyed writing for Apress and sharing my blogging knowledge and experience. I would really like to continue writing technical books and maybe will even write a children's book some day. My days are also filled with raising my young family, Luke and Michaela. We also have two playful dogs and six parakeets (long story, LOL).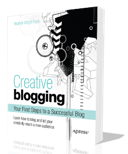 As a creative outlet and for my love of art, I became a Stampin' Up! Demonstrator in October 2006. At present, I consider myself a "hobby" demonstrator, but I enjoy creating handmade cards to sell at local shops, holding child and adult craft programs at local libraries, as well as workshops at my home with customers, friends and family.
I consider myself easy going, but am very ambitious and detailed-oriented (how does that combination work)? I just really enjoy helping others. I am blessed and fortunate to
have the life I do - to be surrounded by a loving family and wonderful people.